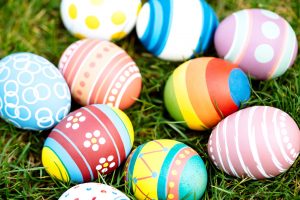 Easter Reflections
There is no escaping the reality that the meaning of Easter for people can be everything from profound religious faith renewal, to gorging on chocolate, egg hunts and extra days off work.  So just so that I have put my cards on the table, my focus here is entirely secular.  However, there are many elements of Easter celebrations that just make for good self-care and well-being even if the Christian spiritual dimension is ignored.
You see, taking time for reflection is good for all of us.   Taking time to consider how we are living our lives, and what it is we believe in is good for us.   Taking time to consider how we treat and engage with others is good for us.  And yet in the busyness of our day-to-day lives many of us do not prioritise, or in many cases even include time for reflection.
Equally good for us is the pleasure and enjoyment of chocolate and good food.   You see growing up in Ireland I have a childhood association with having the first spring lamb for Sunday lunch on Easter Sunday, followed by a dessert of an Easter Egg (and yes back in the day it would have been just 1 egg).  And chocolate in moderation, especially dark chocolate is good for us.
And of course the fun and excitement and sense of mischief associated with egg hunts is good for us and really does encourage us to be "child-like and stay in the moment of the hunt.
So when we consider the various elements of Easter celebrations there is no denying that each of these elements have a role to play in effective self-care and mental well-being.  So I have a gentle challenge for you this week and it is all about getting the basics of self-care in place.
So my challenge to you this week is to gift yourself a little time for self-reflection.   Take some time to consider some of all of the following questions.  Do you spend your time doing the things your love? Are you happy with the level of attention and support that you give to family and friends?  Does your work bring you joy and satisfaction in a job well done? As you consider these questions I the idea rising that it is perhaps time to make some changes? Or is it closer to a well of gratitude that life is good.
Then go and enjoy the chocolate and have some fun!
Have a lovely Easter weekend
Warm Wishes,
Mary